I think I've mentioned this before, but I am not a fan of at home pregnancy testing.
Let me backtrack first and just say that in my last post, I was worrying my pretty little head about urgency to "test out the trigger" for no reason whatsoever. Why? Because I have now taken HPT's Friday, Saturday, and Sunday (today) and not a hint of a second line. I think we can safely conclude the trigger is out without a doubt! No ambiguous results to ponder. Silly me for thinking I might get a positive.
Even though I actually wanted to see a -HPT before seeing a +HPT, to ensure it wasn't false due to fertility meds containing hCG, I had forgotten how intensely demoralizing it is to see those negative tests appear, even if you are somewhat expecting them.
I probably shouldn't leave all the negative tests lined up on my bathtub either, clearly visible every time I walk by, but it's just a habit when testing with Wondfo's. You never know if you might need to compare the shade of the current test with the one you took the day before with a magnifying glass, just to be sure there aren't any microscopic lines appearing. Oh, don't act like I'm the only one who does this. You POAS-aholics know exactly what I'm talkin about!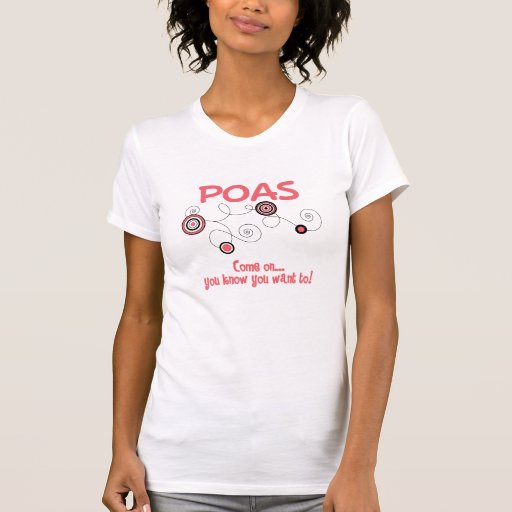 This shirt made me laugh :)
Peeing-On-A-Stick can be a major undertaking if you want to get really serious about it. I mean there are complete websites with everything you could ever want to know about
POAS
. I don't get too crazy with it. At least I can say I never test more than once per day. I realize there is still time for a + to appear.
I am 6dp5dt today, and my blood test is not for 3 more days.
I guess I was just hoping I would get lucky and see something early. Hubby leaves tonight for an international biz trip to the land of chocolate and cheese (Switzerland), and I was halfway hoping we'd have something to celebrate before he left. He feels bad for leaving during the week we will find out, but it's really fine with me. I will actually appreciate a few hours alone if I need to have a nervous breakdown on Wednesday. Still hoping and praying there will be no need for pity parties around here of course and am still doing my best to stay positive. It's still early. It's still early. It's still early. Just breathe.
Oh, I could just shop as a distraction you say? Well, don't mind if I do!
Friday afternoon it was GORGEOUS, 75 degrees and not a cloud in the sky. Hubby and I did a little outdoor mall shopping at one of our favorite little spots to wander here in Austin @ The Domain. We grabbed a bite to eat at BlackFinn Ameripub and I made out pretty well considering I wasn't looking for anything to buy. I decided I am going to live in maxi dresses and sun dresses this summer. Check out my finds...
My splurge- $79 @ Macy's. I love INC brand!




I made up for my little splurge by saving $$ bigtime on everything else...
Only $16.99 @ Ross. Que cheesy commerical, "I got it at Ross!"
This orange color is my favorite. Going to paint the nails to match.
$5.99 @ Ross. Seriously? Is that even possible?
Lounge around, or could belt it and accessorize for going out.




Comfy lacey eyelet white dress for summer! $24.99 @ H&M
There is almost nothing better than finding fun new threads and getting a good deal at the same time.
Just the little distraction I needed. Hubby played golf with his golf buddies yesterday, and I chilled at home doing domestic stuff that I had opted out of during my rest period last week. Last night, we finished out Season 1 of "Hell on Wheels," an AMC Western series that is playing on Netflix. Pretty well done and not too violent actually. I like it! Yardwork this morning and we'll be glued to the TV watching the Master's tournament this afternoon, waiting to see if Tiger Woods will put out the win.
A little worried I am going to run out of distractions once my husband leaves, and I'm honestly not looking forward to testing tomorrow morning. This is the hardest waiting period of my life EVER.
C'mon positive test! I need you now more than ever! I have faith you will still make an appearance!